Implants
An exemplary solution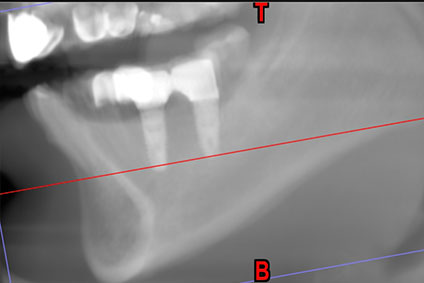 There is no doubt that our natural teeth are the best solution for our mouth. However, in some cases, maintaining a tooth is not always possible.
It is then that the need of a restoration with an artificial tooth is occurred, either with a bridge or with an implant.
These solutions respond to the highest functional and aesthetic standards.
There is no doubt implants are the mildest and most relevant solution for the natural tooth both functionally and aesthetically.
Contrary to bridges where adjacent teeth are grinded, implants do not burden the adjacent teeth.
Implants do not require the sacrifice of healthy dental substance from adjacent teeth.
An implant with the overlying crown can fully restore the natural missing tooth. After a short period of time (about a year) the implant is often considered as natural tooth by the patient.
According to a specific design and number of implants, restoration can be achieved with implants in one or both jaws.
The possibilities we have in modern implantology are great and we take full advantage of them. Jaw restoration with implants and immediate loading, extraction and immediate implant placement with temporary restoration or direct loading, a few years ago was considered impossible.
Today, under certain circumstances, everything is considered feasible.
Having the Resonance Frequency Analysis method make us safer than ever.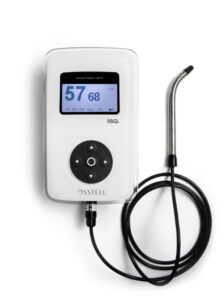 Resonance Frequency Analysis is a contemporary method that helps us objectively and non-invasively, determine implant stability.
It is critical for managing patients with risk factors, avoiding unnecessary long treatment periods or wasted time, implementing immediate implantation and loading, and achieving more predictable outcomes referring the stability and the osseointegration of every implant.
We use the OSSTELL© device from 2006, to each patient and implant having a great feedback from patients and colleagues!
There is no doubt, that Implants are the best solution when we need to restore a tooth.
Both the special design and equipment of our clinic for dealing with demanding cases related to implants and grafts, as well as our many years of experience in implants will ensure you a very high level of rehabilitation, providing you with all the necessary guarantees (objective measurement of osseointegration of implants/if they apply correctly, implant identities, etc.).
Our exclusive cooperation with only brand name Implant companies (Straumann, Nobel Biocare, Dentsply Sirona etc.), provides you with the possibility of controlling the whole procedure.
Correct information and the right treatment plan can help you make the right decision.
Services