Prosthodontics
When tooth filling can no longer help…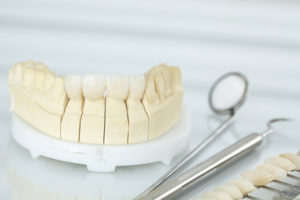 From a single tooth crown to the complete restoration of the jaw with implants (crowns on implants), we offer you every opportunity to replace natural teeth as best as possible.
While the dentures can be removed, the implants are permanently attached to the jawbone, resulting in the desired stability.
If you need any prosthetic restoration, we will advise you, in advance, on which option is right for you and which are the advantages or disadvantages.
After all we will choose together an optimal solution for a functional and aesthetic restoration which lasts for a very long time.
Fixed Prosthodontics
Fixed Prosthodontic is a very aesthetic form of fixed restoration. As bridges, crowns, implants, and veneers.
Although in the past fixed dental prosthesis were primarily metallic, the materials which are now preferred are ceramic. These have the advantage that they come extremely close to the natural appearance of the teeth.
If a tooth has suffered severe damage due to an accident or caries, sealing is no longer possible, the teeth must be restored.
It is also necessary to restore the lack of one or more teeth.
A fixed restoration will provide you with the maximum safety when chewing.
Removable Prosthodontics
Today, none should live without teeth or with a great lack of teeth.
Thanks to the great development of the Dental Prosthetics, it is possible to provide removable restorations-dentures that satisfy both functional and aesthetic requirements.
A removable denture refers to any prosthetic restoration that the patient can remove from the mouth. The use of removable dentures is usually considered necessary when it is not possible to provide fixed (stable) restorations (e.g. bridges).
Prosthetic dentures offer you the safety in chewing, the opportunity to speak clearly and restore your smile.
A complete denture is used when an edentulous jaw (with no teeth) needs to be restored.
Some dentures are used when some teeth are missing.
To ensure that the removable dentures fit exactly, they are made individually and have great repair possibilities.
Crowns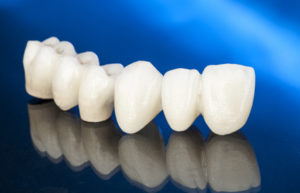 A crown is nothing else but an artificial tooth case which covers the natural tooth.
Crowns are used in dental prosthetics if the damage of the tooth is too great for sealing.
The crown covers the tooth to restore its functionality.
Even if the crowns are considered prosthetic, they do not replace the real tooth, but serve to preserve them.
Very damaged teeth can be restored in whole or in part with a crown.
Also, aesthetic reasons may require its construction.
In fact, all ceramic crowns are aesthetically very close to the natural tooth. Ceramic crowns are not visually different from your natural teeth.
Alternatively, a metal-ceramic restoration always remains an excellent solution.
Services